TOGETHER, WE CAN MAKE A DIFFERENCE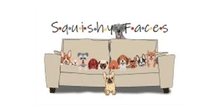 Healthy Pet Products is proud to carry Squishy Face in Pittsburgh, Pennsylvania. Squishy Faces pets are near and dear to our hearts. There is something about those adorable soft muzzles that make their look not just cute, but irresistible. We fell in love with their stubborn, bull-headed personalities some time ago, and it inspired us to create a company around them.
Too many animal rescues are operating on shoestring budgets. If you are a fellow pet owner, I am sure you know how the expenses add up. The rescues need our help to cover the various costs such as medical bills, food, medications, and everything else needed to keep these animals happy and healthy. After owning several rescue pets, we decided to take it one step further. We know that we can't adopt every rescue pet, but we can donate to the rescues that act as a temporary home to our furry friends.
We work with animal rescues by sponsoring one each month and donating a portion of our proceeds to them. We donate a minimum of 10% of profits. You can find out more about the rescues we have helped under "Rescue Information".
Dog Product
CHILLIN WITH MY PEEPS" EASTER T-SHIRT
DOG MOM" V NECK DOG LOVER T-SHIRT
DOG, MY BEST FRIEND" CANINE LOVER TEE SHIRT
UNTIL EVERY CAGE IS EMPTY" RESCUE DOG LOVER SHIRT
Come visit our pet supply store in Pittsburgh, PA specializing in quality food, treats, and supplies for dogs, cats, and small pets.